City of Caruthersville Contact Information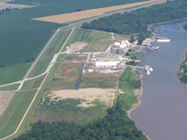 Effective May 1, 2006, the City of Caruthersville entered into contract with the Pemiscot County Port Authority to provide Economic Development services to the city. Services provided to the city include:
a.  Assistance with business retention and expansion.
b.  Facilitating efforts of entrepreneurs and
     small businesses.
c.  Actively pursuing new business and industries.
The Pemiscot County Port Authority is dedicated to expanding the industrial and economic base of the City of Caruthersville and Pemiscot County, Missouri. That mission is accomplished primarily through assisting the existing businesses and industries in the community to grow and expand; in building upon the existing base through the attraction to the community of additional customers and suppliers; helping the entrepreneur launch a new venture; and attracting entirely new kinds of businesses and industry to the area.
Contact Info:
103 East Third
Caruthersville, Mo 63830
http://www.pemiscotport.com/

 

Phone:573-333-4125
Fax: 573-333-4216
info@pemiscotport.com