Caruthersville Public Library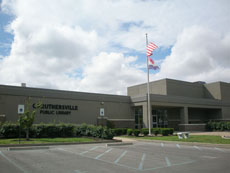 Caruthersville Public Library was founded on February 18, 1922 by the Caruthersville Women's Club. Its first permanent home was a house which is still visible from Carleton Avenue on 10th Street. In 1940, a WPA project brought a brand-new library to the corner of 10th and Ward. Though that building is now the Caruthersville Municipal Court Building, the word "Library" still visible above the front door. In 2002, a large, modern 12,000 square foot building was built on the orignal Brown Shoe Factory property at the corner of Laurant and West 13th. 
Caruthersville Public Library contains over 25,000 books, along with numerous magazines, videos, computers for public use, two conference rooms - one with a large-screen smart television - and the Baxter Southern Auditorium, which is a 104- seat theater/auditorium with projection screen and internet capability for conferences and events. The library also contains a children's room with books on a variety of reading levels, from board books and easy reading to juvenile fiction and non-fiction, and a genealogy room houses hundreds of volumes for various states, along with a microfilm reader and a designated computer. This room, named after Kaye Norton Gill, a prolific area genealogist, contains much of her personal collection of genealogy volumes which she donated to the library before her death. 
We have a beautiful fish pond with a waterfall on the back patio under the John L. VanAusdall Jr. Reading Pavilion, a wonderful place to enjoy a lunch, snack, or just some outdoor weather while reading. 
Caruthersville Public Library services a population of 5,801 (in 2016) and is supported primarily by city funds, but also receives funding through the state of Missouri, as well as local donations. In 2017, a one-half cent sales tax to support the library was passed overwhemingly. 
The Library is governed by the Board of Trustees, who are all residents of the city: 
President Terri Callen
Vice-President Shawndrae Isable
Secretary Ewanda Young
Treasurer Paige Gillock
Member Karen Clayton
Member Sally Fisher
Member Jock Grantham
Member Wenlan Reno
Member Betty Toles
---
---
---
Director: Teresa Tidwell
Head Librarian: Kay Snow
---
---
---
Library Address: 707 West 13th Street
Caruthersville, MO  63830
Phone: (573) 333-2480
Fax: (573) 333-0552