Caruthersville's Recreation Center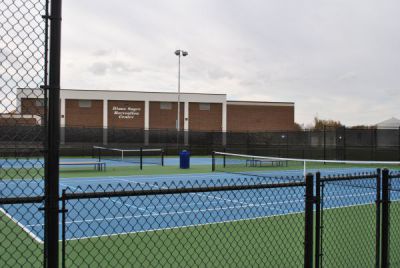 Diane Sayre Recreation Center
1500 Truman Boulevard
Caruthersville, MO 63830
Phone:  573-333-0031
Fax:  573-333-0032
Email:  recenter@caruthersvillecity.com
The 38,000 square foot Diane Sayre Recreation Center provides some of the best aquatic and recreation facilities between St. Louis and Memphis. The center houses an indoor Olympic-size swimming pool, gymnasium, two racquetball courts, four tennis courts, weight room, indoor track, locker rooms, sauna, activity room, meeting room and kitchen.
Highlighting this one-of-a-kind structure is the indoor Olympic-size swimming pool that measures 75 feet by 66 feet. The pool is comprised of eight lap lanes, with three open at all times. Depth ranges from 4 feet to 12 feet. One one-meter diving board rises above the deepest part of the pool. The pool contains 238,000 gallons of water which is maintained at approximately 83-85 degrees throughout the year. The gymnasium measures 84 feet by 96 feet, with a gymnasium floor of genuine hardwood maple. Bleachers can seat up to 225 people. The floor layout provides several different configurations.
Elevated 10 feet above the gym floor is a soft cushioned track surface that is ideal for recreational walkers and joggers. Thirteen and a half laps equal to one mile.
The center also includes a state-of-the-art weight room with every piece of exercise equipment from free weight stations, machine weights, to stationary bikes and steppers.
Two official sized racquetball courts are made of hardwood maple. The courts can be reserved or are available on a first-come, first-served basis.
The Center provides four outdoor lighted tennis courts free of charge for the public.
Complementing the Recreation Center is the Sportsplex, an outdoor facility for youth sports programs. The Sportsplex accommodates four baseball diamonds that are easily converted to kickball fields in the fall. Each field is equipped with electronic scoreboards.
NEW POOL HOURS!
OPEN SWIM
Age 10 and over can swim without adult.
LAP & FAMILY
Age 18 & up or with Parent/Guardian only! NO EXCEPTIONS!
MONDAY - THURSDAY
Lap & Family Swim 5:00 am – 12:00 pm
Open Swim 4:00 pm – 6:00 pm
Lap & Family Swim 6:00 pm – 8:30 pm
FRIDAY
Lap & Family Swim 5:00 am – 12:00 pm
Closed Friday Evening
SATURDAY
Open Swim 11:00 am – 3:00 pm
Lap & Family Swim 3:00 pm – 5:30 pm
SUNDAY
CLOSED
MORNING EARLY BIRD SWIM
Monday - Friday 5:00am - 8:00am
AQUATICS
Indoor 25 yard Pool
Lap Swimming
1 Meter Diving Board
CARDIOVASCULAR
Indoor Walking Track
Lifecycle 9500 Bicycles
6 Startrac Treadmills
2 Startrac bicycles
4 Precor EFX534: Ellipticals
STRENGTH
9 Maxicam Machines
9 Paramount Machines
15 Flex Free Weight Stations
Dumbbells 5 to 100 lbs.
Cardiotheatre FM TV SPORTS
2 Racquetball Courts
Basketball Courts
Volleyball Court
LOCKER ROOM
Showers (Bring your own towels)
Lockers (Bring your own lock)
Dry Sauna
PROGRAMS
Youth Baseball & Softball (Spring)
Youth Basketball (Winter)
Youth Kickball (Fall)
Pee-Wee Football (Fall)
Gymnastics
Karate
SWIM Team