Caruthersville City Parks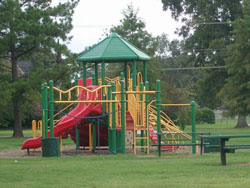 French Park
French Park is located on the east side of town and has playground equipment, a softball field, picnic tables, basketball courts, covered picnic pavilion, and a walking track.
England Park
England Park is dedicated to Col. John England, World War II Ace of Caruthersville. It is located on Hwy U on the west side of town. The park has playground equipment, a picnic pavilion, a public 9 hole golf course, Kiwanis baseball field, and a four field Sports Complex.
Reynolds Park
Reynolds Park is located on the Mississippi River. The park has picnic tables with plenty of shade for an afternoon picnic. A river access boat ramp is also available for launching pleasure boats.
Veterans Park
The General John Riggs Veterans Park is located west of City Hall on Third Street. The park is named in honor of a local resident who joined the Army after completing Caruthersville High School in 1964. His military service and successful career were among the reasons the park was named in his honor. The purpose of this park is to provide a place where residents and tourists can visit to show appreciation, gratitude and respect for those who served and continue to serve in the Armed Forces of the United States of America during times of war and peace. A Huey helicopter is located in the center of the park surrounded by benches commemorating various wars and branches of service. Monuments in the rear of park honors Veterans of all branches of service.
Riverwalk
This one mile walking trail links Reynolds Park, the Historic Water Tower and Veterans Park. Walkway is well lit with benches and river viewing areas.